This spring, the staff at Your Smile , proudly celebrates 10 years together. In 2005, Dr. Danielle Zhu acquired a well-established dental practice in the heart of what we now know as "(Insert Dealership Name)-ville". She faced many challenges, like deciding what we were to do with a 9 ft. wooden bear in our lawn, and hiring the staff needed to make Your Smile thrive as a new business. Within weeks, Dr. Zhu had found the "big bear" a new home, and had hand selected a team to help make Your Smile what it is today. As a new owner, you can only hope that your staff selection can match strengths with weaknesses and allows personal growth for the whole team. Realistically, you hope that your staff gets along and that you can count on them to be there when you open your doors every morning.
Today, Dr. Danielle Zhu opens her office doors to see the same team that she selected 10 years ago. We try to keep it fresh and dye our now graying hair, but we are still here. Through graduations, weddings, births and shared holidays, we have become more than just staff. We have become family. Here's a little bit more about the smiling faces that help make that family:
Dorothy Van Dyke
Dorothy has held her position in this location for more than 15 years. You know her as the Polish lady that sends you to "the big chair", but she does much more behind the scenes than any of us will ever realize. As the "Mom" of the group, our cabinets are never bare of supplies, and she sees that everyone goes home with tooth brush. During quiet times, we often hear Dorothy shout out a name of a patient that she just remembered is overdue for a cleaning. She never stops worrying about people. Do not be surprised if you get a personal reminder call. We are honored to have her here on our team.
Outside of the office, Dorothy and her husband are always on the run. Dorothy is a proud swimming and soccer mom, and she will take every opportunity to share this with our patients. Her oldest is now off on his own, making his own dental appointments. Her daughters flossing rituals are still under the watchful eye of their mom, their smiles will undoubtedly only grow more beautiful. Along with countless other families, we have watched Dorothy's children grow up over the years. What an honor it has been.
Lori Adams
If Dorothy is the "Mom", then surely Lori is the little sister. As the youngest of the team, Lori has grown herself over the last 10 years. She still struggles to wear her retainers every night, but we have finally gotten the importance of flossing through to her. Lori's smile is always the first thing that you see when you walk into our office. Mostly likely because she never leaves that front desk, but also after Invisalign and Porcelain Crowns, we featured her on the first page of our Look Book. Lori's greatest strength is that she can efficiently juggle scheduling appointments and answering your insurance questions, all without missing a moment of what comes on The Ellen Show. Lori's biggest smile can be seen when she gets a chance to play in the office with her littlest co-workers, both Dorothy and Dr. Zhu's children. We may not have video games or a sandbox, but we have a "Lori". At the end of the day, it is not uncommon for us to see her still wearing the prize box jewelry or pulling stickers off of her pants. We are very lucky to have her, and so are the parents of our patients!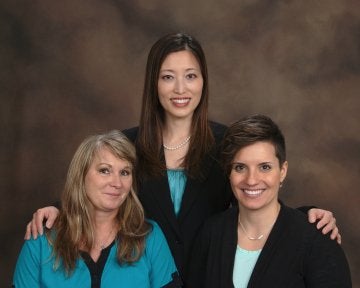 Dorothy, Dr. Zhu, and Lori