Dr. Danielle Zhu of Bel Air, MD
General Dentist/Practice Owner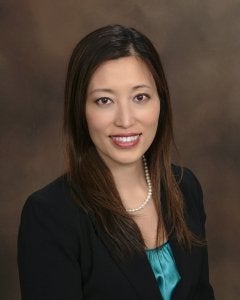 Dr. Danielle Zhu is a friendly and engaging dentist in Bel Air, Fallston of MD. Her ability of specializing in many disciplinarians of dentistry enables her to treat your entire family from the young to the matured within one office.
Dr. Zhu grew up in Ellicott City. She completed her undergraduate study at UMBC. Dr. Zhu received her dental degree from the University of Maryland Dental School. She completed a prosthodontic clerkship and a post doctorate training in advanced general dentistry.
Dr. Zhu is very involved within the dental community. Dr. Zhu is an active member of the American Dental Association, the Academy of General Dentistry, and the Maryland State Dental Association. She has served as a secretary, treasurer, vice president and president of the Harford Cecil County Society. She has volunteered with Mission of Mercy on numerous occasions to help the underserved population across Maryland. She has been awarded prestigious fellowship by Academy of General Dentistry. She has represented local dentists in Annapolis to engage congressmen to ensure better care for the general population.
Dr. Zhu is multilingual, and she speaks English, Mandarin Chinese, and Shanghainese Chinese.  Dr. Zhu is a proud mother of quite an amazing little girl.  In her spare time, Dr. Zhu enjoys running, playing tennis, skiing, painting, and cooking.
Our Values
Always On Time
Personalized, Gentle Care
Full Service for Entire Family
State-of-the-Art Equipment
Uncompromising Safety