Mini Dental Implants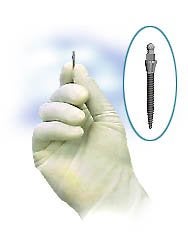 The MDI System consists of a miniature titanium implant that acts like the root of your tooth and a retaining fixture that is incorporated into the base of your denture, The head of the implant is shaped like a ball and the retaining fixture acts like a socket that contains a rubber O-ring. The O-ring snaps over the ball when the denture is seated and holds the denture at a predetermined leve of force. When seated, the denture gently rests on the gum tissue. The implant fixtures allow for micro-mobility while withstanding natural lifting forces.
Late in 1997, Dr. Sendax collaborated about his mini implant theory and design concepts with a colleague, Dr. Ronald A. Bulard. Dr. Bulard had previously formed a dental implant company, IMTEC Corporation, which was at the time manufacturing and marketing standard sized dental implants, abutments, and other dental products. Convinced they were on to something special, the two implantologists spent countless hours studying and refining Dr. Sendax's original creative design, resulting in a more efficient top and collar to the mini dental implants. Combining this now re-designed mini implant with Dr. Sendax's original insertion protocol resulted in a successful breakthrough. Under Dr. Bulard's direction, IMTEC Corporation began the rather complex and expensive design and manufacturing procedures which ultimately resulted in what is now offered to the dental community under the brand name IMTEC Sendax M D I (mini dental implant). The innovative system and procedure was thereafter formally introduced to the United States dental community at an implant conference in Orlando, Florida in April, 1999. It was an instant success and now represents one of the fastest growing segments of the dental product industry.
Our Values
Always On Time
Personalized, Gentle Care
Full Service for Entire Family
State-of-the-Art Equipment
Uncompromising Safety