It is important to set up a consultation with your dentist in Bel Air in order to determine what kind of dental treatment is best for your needs. However, it is also helpful to learn about the various types of procedures beforehand so that you can get an idea of what to expect. Dental crowns are used to treat many dental issues including weak or broken teeth, tooth decay, and missing teeth when used with dental implants. Read on for the dental patient's guide to crowns.
Preparation and Procedure
If you and your dentist have decided that a dental crown is the optimal treatment for your situation, you will make two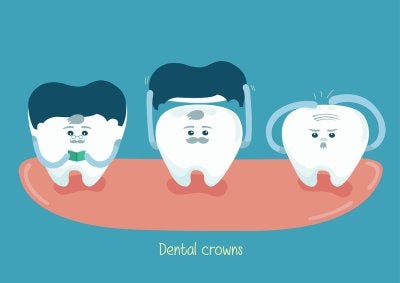 appointments. The first appointment presents your dentist with the opportunity to examine your teeth, gums, and jawbone. He or she may determine that a root canal treatment is necessary before going through with the dental crown procedure. After anesthetizing the tooth and gum tissue, your dentist will file down your tooth so that there is room for the crown to sit properly. He or she will then send an impression of your tooth to a lab, and a crown will arrive in two to three weeks . During the second appointment, your dentist will double check the permanent crown and then cement it.
Types of Crowns
Dental crowns are incredibly versatile in that there are many different types to choose from. Metal crowns tend to be among the most durable, and they typically require less removal of tooth structure. Ceramic and porcelain crowns, on the other hand, can be made to match your natural tooth color but tend to wear down over time. Dental crowns made completely of resin are most affordable, but they may also be most susceptible to cracking.
Maintenance and Working Life
A dental crown can be an excellent restoration that improves the aesthetic appeal and function of your tooth, but it is important to care for them. Brush your teeth twice each day and floss once per day, and be sure to visit your dentist on a regular basis. Properly cared for crowns can last for up to fifteen years.