Gum disease, also known as periodontal disease, is one of the most common causes of tooth loss. Proper dental care can often prevent gum disease, but if you already have it, you may need specialized dental care in a dental office in Bel Air, MD. Undergoing an intensive dental cleaning may reverse the disease, provided you follow your dentist's recommendations for at-home dental care .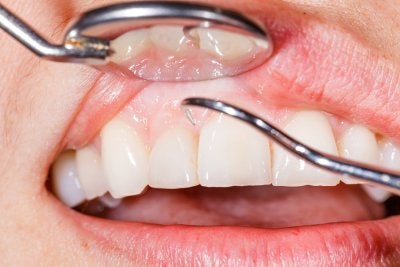 Discuss Your Medical History
When you arrive at the dental office, you can expect to be asked about your medical history. You might consider asking your dentist how he or she thinks you developed gum disease. Some common risk factors of periodontal disease include diabetes, poor nutrition, poor oral care habits, tobacco use, and decreased immune function. Not all of these risk factors can be eliminated, but lifestyle changes can improve others. Consider asking your dentist to evaluate your typical brushing and flossing techniques, and give you some pointers if your routine could use improvement.
Learn About the Recommended Treatment
The treatment options your dentist recommends will depend on how far the disease has progressed. The early stage of gum disease is gingivitis. If you have gingivitis, your dentist might recommend one or two professional dental cleanings. You'll also need a follow-up visit to make sure your gums are healing. If your dentist recommends this method, be sure to ask how often you should schedule routine dentist visits in the future. If your periodontal disease is more advanced, your dentist may recommend scaling and root planing. This is a deep cleaning method that scrapes away tartar, plaque, and toxins from below and above the gum line. The root surfaces are then smoothed. If your dentist recommends this option, consider asking how else you can support your oral health. Your dentist may prescribe medications, recommend medicated mouthwash, or advise you to switch to an electric toothbrush.
Ask About Maintenance
Whichever treatment option your dentist recommends, be sure to ask him or her about the maintenance phase. Maintaining your oral health is crucial to prevent a recurrence of gum disease. Your dentist may recommend that you return to routine dental cleanings four times per year instead of the usual two visits. During these visits, the dentist will check your gums to make sure they are still healthy.